The summer nectar flow began in the second week of June and everything seems to have bloomed at once! Clover, lime trees, blackberry, thistles, knapweed, chestnut and numerous other sources for the bees to forage on.  Unfortunately we have had very little rain so the flowers are drying up and not much nectar has been produced.  This means the summer flow will probably finish early, possibly even in the next couple of weeks. Honey bee on knapweed                   Field of thistles in bloom near Maidenhead apiary. Borage in bloom
---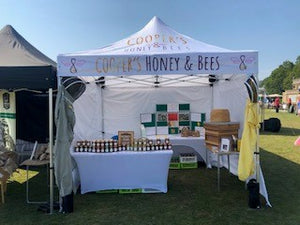 What a great day we had in the sweltering heat of the Royal Windsor Rose & Horticultural Show at the York Sports Club, Windsor Great Park. 
---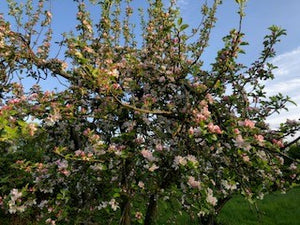 The weather was kind and the bees worked hard! We have extracted over 525 Kg from across our apiaries...
---
The bees have arrived - Burnham apiary
---
The long winter months were an ideal time for me to build some new hive stands for our apiary that is now established near Burnham village.  This design is useful as they have folding legs and can therefore be easily transported on the roof of my vehicle. At a squeeze I can get four hives on each stand: The bee hives will be moved onto the site in the coming week. It was back breaking work digging and levelling the pavings slabs the stands are on!